Avondale will soon have its own outdoor oasis, as city officials and stakeholders broke ground June 9 for an aquatic center at the civic center campus.
According to officials, the Avondale Aquatic Center will occupy about 8 acres on the Avondale Civic Center campus on West Civic Center Drive. 
The project is a community priority with an investment of approximately $30 million and is projected to finish in summer 2023. The presence of an aquatic center in Avondale will introduce an array of recreational and competitive swim opportunities to the community.
"This project has long been a desire of our residents and a dream in the making for the city," said Avondale Mayor Kenn Weise.
During the groundbreaking, Weise recalled that the city has discussed the aquatic center construction since he was appointed to the council in 2006. 
A citizen survey kickstarted the project, which was included in the 2017 Parks, Recreation, Libraries and Trails Master Plan.
Parks and Recreation director Bryan Hughes said Avondale is one of the largest cities in the Valley that does not have an aquatic center. 
"Looking at the list of 14, 15 cities in the Valley population-wise, all of them have pools," Hughes said.
"Everybody above us has a pool or multiple pools. … So just for us to get one is going to be huge."
The Avondale Aquatic Center's location adjacent to the city hall and library will help create a synergy among the civic center facilities, while establishing the facility as a "recreation and cultural destination for Avondale residents and visitors."
The facility will feature a competition pool spanning 10 25-yard lanes, complete with a diving wall with two diving boards and a learn-to-swim nook. 
Recreational features include a pool with zero-depth entry, water sports courts, water slide tower with three slides, play structure, lazy river and water walk course. Other additions include a bathhouse with locker rooms, multipurpose rooms, two snack areas and two food truck bays.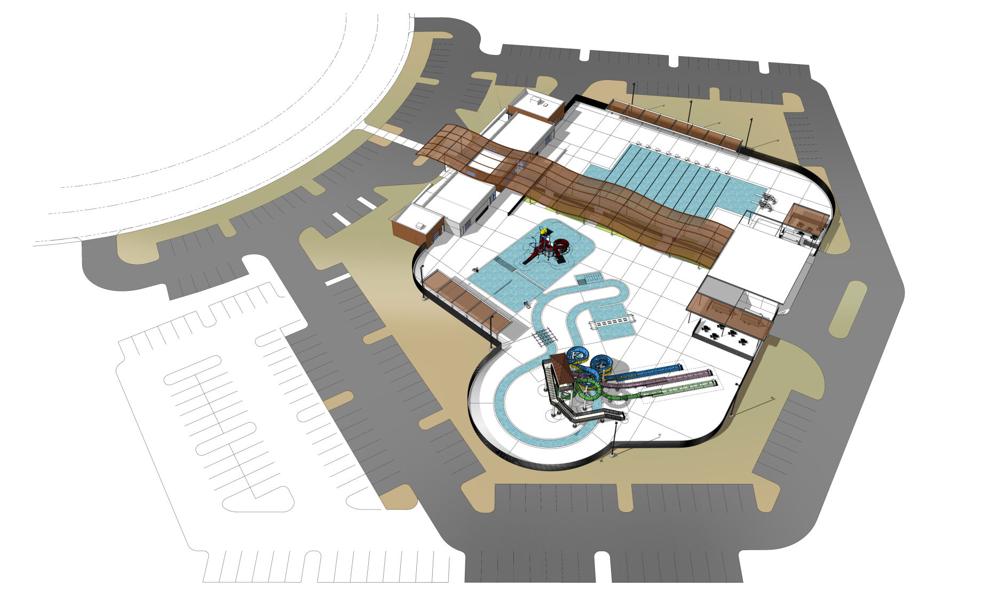 Upon opening next year, the Aquatic Center will provide swim lessons for children, youth and adults, as well as recreational and competitive swim opportunities. 
The city has partnered with local school districts and colleges to house competitive swim and dive programs and teams.
Partnering institutions include Estrella Mountain Community College, the Agua Fria and the Tolleson union high school districts. Hughes said they are still looking into elementary school district partnerships.
"I think it's really important," Weise said at the groundbreaking.
"You look at Estrella Mountain Community College and the ability that they have to bring sports into their programming, this facility is going to play a big role in that."
To further assist in hosting large college-level competitions, the Avondale facility will collaborate with the aquatic centers in Tolleson and Goodyear.
"The thought behind this was that we would have three facilities that could combine efforts and bring in college-level tournaments and competition," Weise said. "So, a lot of times the facility that we have may not be big enough for tournaments, but all three would."
New job opportunities will be listed when the facility is open. During the high season from April to September, Hughes said that they anticipate employing up to 70. 
With a focus on teens and young adults, these positions include junior and head lifeguards and baby swim team coaches.
According to a statement, the construction contract was given to firms Core Construction and Gabor Lorant Architects Inc. Both have experience constructing large-scale civic facilities and aquatic centers, among other projects.
"We're just really excited for this project, I'm looking forward to getting it opened next summer," Hughes said.
Updates and visuals will be posted on the city of Avondale's webpage, avondaleaz.gov, and social media for those who wish to follow the construction's progress.