The Valley's leading analyst of the Phoenix Metro housing market last week predicted that the entire region could see a balanced market — with supply meeting demand — by September.
Buckeye is almost there, according to the Cromford Report, and likely will be the first to achieve this month what the Valley hasn't seen in more than three years anywhere. 
"Buckeye will be a balanced market during the first two weeks of July with that balance looking like it will swing more towards buyers with every day that passes," the Cromford Report said. 
"Queen Creek and Maricopa are about one week behind Buckeye. We then have Cave Creek, Chandler, Gilbert, Peoria, Phoenix, Surprise and Tempe all in a similar condition. Their markets are cooling rapidly and look likely to move into the balance zone within a matter of weeks rather than months. Unless the current trends change, we could be in a buyer's market across much of Central Arizona by the beginning of September."
The trend is a stunning reversal for a market that began the year — and dominated 2021 — with buyers at the mercy of bidding wars, foregoing inspections or making other concessions to sellers in a desperate effort to secure a home.
While a sudden flood of new listings might be welcome by prospective buyers, the Cromford Report said they may be in for more heartache — and that sellers will be grabbing their crying towels along with them.
That's partly because home prices remain at record levels and rising interest rates appear to be dousing buyers' interest.
"The last two months have been dismal for the Greater Phoenix housing market, with demand fading sharply and supply growing at one of the fastest paces we have ever witnessed," the Cromford Report said. "Either trend would have been negative, but with both coming together we have had a very chilly wind blowing through the market.
"For many weeks, we have been looking for some convincing sign of the relaxation of one or both of these trends," it continued. "We have not found any. Instead, over the last week, the situation has turned significantly worse, at least from a seller's viewpoint. And it is worse from both a demand and a supply perspective."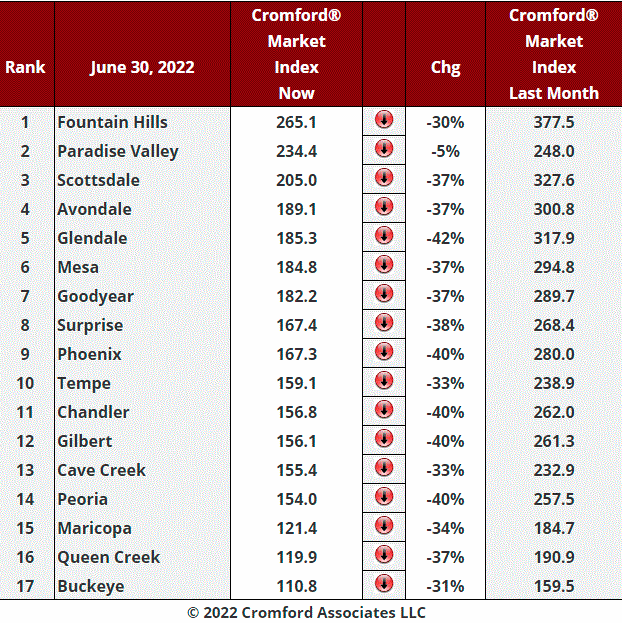 Realtor.com, an affiliate of the National Association of Realtors, said, "Affordability will continue to remain a challenge for anyone looking to buy in the current market, as mortgage rates and home prices are not expected to drop this year; thankfully, they aren't anticipated to grow as rapidly or significantly as they did earlier this year, though.
"One strong positive is that the number of homes for sale is likely to increase as the year continues, meaning more options for buyers," it continued.
The Cromford Report based its predictions of the trend in the Phoenix Metro market on a variety of data it uses to compile the Cromford Market Index. The figures it arrives at each of the 17 major submarkets in the Valley indicate how close each community is to a balanced market, with numbers above 100 indicating a seller's market and numbers below 100 favorable for buyers.
For all of 2021 and the first three months of this year, its CMI showed numbers at times exceeding 500 — indicating markets heavily tilted toward sellers as supply shriveled.
But the latest CMI shows a starkly different picture, with those figures falling between 31% and 42% from the previous month in 16 Valley municipalities. The only exception is Paradise Valley, where the CMI dropped only 5% but remains heavily weighted toward sellers at 234 and ranking second only to Fountain Hills, with 265.
In the West Valley, Avondale registered 189 on Cromford's market index — well below the 799 it registered a year ago this month. Glendale is now at 185 whereas in July 2021, the CMI was 495. Peoria is listed at 154, far below the 475 index rating it had a year ago. Buckeye in the last 12 months has fallen from 396 to 110.
The identical trend has emerged in the East Valley. Chandler, a year ago, had the fourth most favorable market for sellers at 530; now, it has the 11th-most favorable seller's market at 156. Similarly, Gilbert has fallen from 490 in July 2021 to 156 while Mesa has dwindled from 433 to 184. Scottsdale retains a relatively high ranking for sellers, though its position has fallen from 451 to 327 in the past year.
The Cromford Report noted that a wisp of panic among people trying to sell their homes before losing any advantage in the marketplace appears to be settling down.
"The brighter sign is that the number of new listings over the past seven days is down from the extreme high of the week before," it said on June 30. "At some point the seller stampede may run out of new sellers. This is not happening yet, but at least the rate at which sellers are joining the stampede is slowing."
Still, a few days earlier, it also said, "More homes are being listed for sale than at any time since 2011."
But it added, "We are not seeing forced selling, like we experienced during the foreclosure wave of 2007 to 2011. This is people electing to sell because they fear a fall in home prices. That fear is likely to be self-fulfilling. When so many attempt to make it to the exit door ahead of everyone else, people get hurt.
"We do not pretend to know how much prices will fall in numeric or percentage terms, but the latest data suggests that it is already impossible for home prices to rise under the current market conditions," it said. "As people get more anxious to dispose of their housing assets, price cuts are growing in number and size. The very top and bottom of the market are least affected, but the mid-range, where the vast majority of transactions occur, is experiencing a big freeze.
"When a buyer's strike and a seller's stampede occur at the same time, the market stalls in mid-flight. A price correction becomes inevitable. The Federal Reserve has stated that they want to see a 'reset in the housing market,' and it looks increasingly likely that their wish will come true."